Valve may not be developing Half-Life 3 by giving priority to the Steam Deck games, but who cares when this exists a mod that allows us to enjoy Spyro in the Half-Life original. Baptized with the name of Half-Life: Year of the Dragon, basically consists of replacing Gordon Freeman with the mythical purple dragon that has accompanied us all our lives. It is created by the modder Magic Nipples and its only purpose is that: that we can enjoy Spyro in Valve's mythical adventure. It works for us.
Half-Life: Year of the Dragon, a new way of touring Black Mesa
"So, 2020 has been an incredible year, no?", Begins by writing Magic Nipples on its official website. "It really changed my plans for this year. Both in my personal life and with the mods I'm working on." That's when he explains everything he's been busy with: among other things, bringing Spyro to life as Gordon Freeman in the adventure. Half-Life: Year of the Dragon.
The mod allows us to immerse ourselves in the Black Mesa scenarios with a third-person perspective, adding Spyro's moves and features. In addition, it has a level selector so that we can go directly to those parts that we liked the most about the original 1998 game. The modder is polishing and improving some sections of the story: for example, he has been fixing the office complex.
A third person mod to play as Spyro in Half-Life
"In essence, you will have a core world similar to a typical Spyro game," explains the modder. "Then you will have a selector of 10 or more chapters of Half-Life and its expansions. I have yet to finalize the list, but my idea is that it should be something like that. "In statements collected by GamesRadar+, Magic Nipples assures that he wanted to do the same but with Mario: "However, knowing that Nintendo would cancel it instantly, I chose the next best option." I mean, the mythical Spyro.
The most interesting thing about this mod is that this is not simply a substitution of one character for another: Magic Nipples has had to adapt the entire environment of Half-Life a Spyro. So what started out as a relatively simple idea turned into something more complex. "Not that I hate the campaign of Half-Life, but I think some chapters are just not interesting to play as Spyro, even with changes to suit its mechanics, "he explains.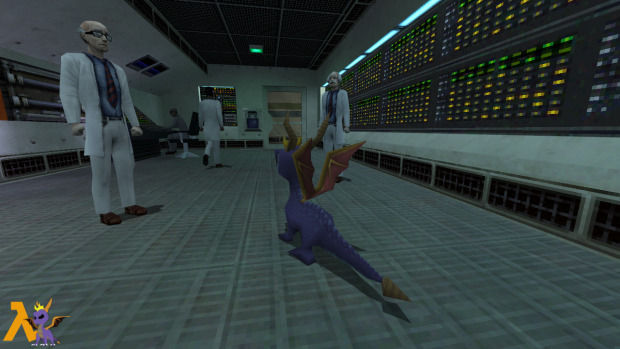 "Some chapters are just not interesting to play as Spyro"
To find all the information about the mod and the progress that Magic Nipples is making, you can visit their page at ModDB. "I would like to thank everyone for your love and support received to date!"He continues on his website." I always say the same thing, but without the love of the fans, I probably wouldn't have done this. "


Reference-vandal.elespanol.com